Dr R.K Visit to USA
Under the subtle guidance of Param Pujya Gurudev
Pt.Sriram Sharma Acharya & Parma vandaniya Mata Bhagvati Devi sharma
New Jersey, U.S - Youth camp
30th July to 3rd July
Res.Dr. R.K attended the youth camp-NJ representing AWGP South India. This 3 day camp was also attended by AWGP head Res. Dr. Pranav Pandya has dwelt on PPGs spiritual science at length and draw a parallel with the New Age and the current world crisis in a scientific way.
Ad.Dr.R.K's speeches inspired the attendees with a new outlook and perspective towards PPG. Ad. Bhatnagarji, Ad. Kalicharanji and other Senior Parijans from Santikunj have given a clarion call to all the parijans to prepare themselves for the activities leading to the celebration of Janma Satabdi samaroh of PPG in all countries.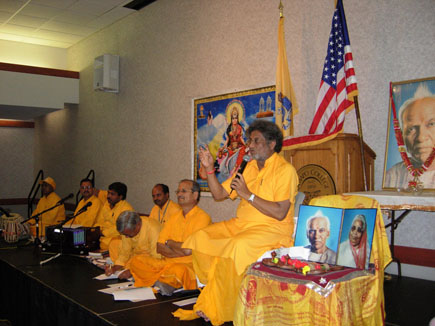 Brief details of the topics covered by Res.Dr. R.K
31st-July-08 – On the first day the topic was "What is in Vedas?" In this lecture Res.Dr. R.K Explained Past, present and future of the Universe as detailed in the Vedas with a scientific logic.
Res.Dr. R.K explained why Pujya Gurudev can be understood as the Niyanta (RULER) of this Universe and our responsibility to work for Gurudev's Janma Shatabdhi Samaroh , as PPGurudev gave this responsibility as his Vasiyat
( Will ) and Virasat to us.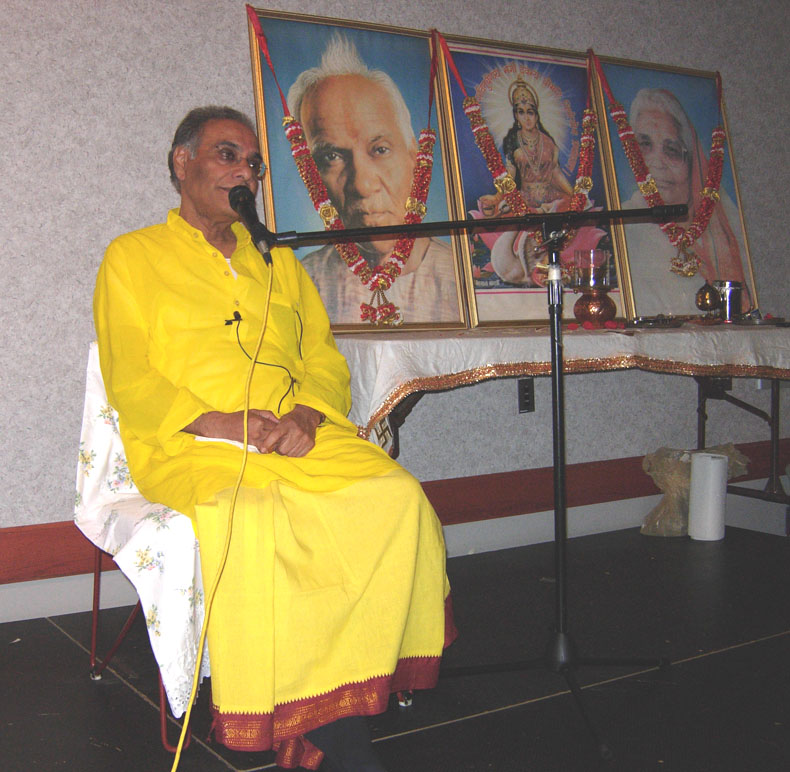 1st - Aug - 08 - Spirituality in daily life
Param Pujya Gurudev words "Gayatri mantra is the universal Mantra"'Was elucidated. Elaborated the main points from the book "Jeevan devata ka sadhana" by PPG and how PPG organized his lifestyle with Sradha and Prajna.
2nd - Aug -08 -The Super Science of Gayatri
Nishta,Shradha and Prajna elaborated as fundamentals of lifestyle Dr.R.K explained how to be receptive to solar rays into our body through Sahasrara Chakra and Nabhi chakra and the activation of nerve centres when the sadhak is chanting gayatri mantra is explained with illustrations.
Dr.RK's lectures were very well received by all parijans.
The camp concluded with a picnic with joy and happiness.
All the parijans enjoyed the game of Cricket.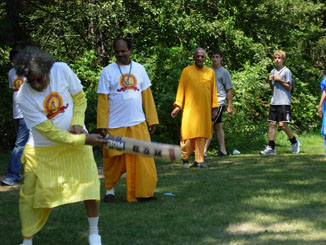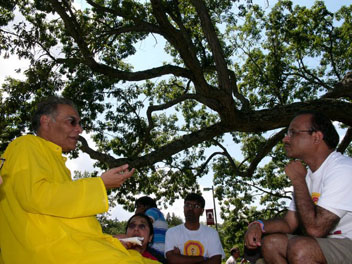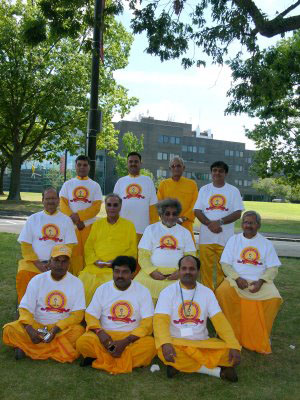 3rd- Aug -08 – 108 kundi Gayatri Maha yagnya at Gayatri Chetana Kendra,NJ
Dr.RK participated in the 108 kundiya yagnyam that is conducted in the presence and guidance of Ad. Dr.Pandyaji head of AWGP and Shila Pujan Ceremony of Gayatri Chetana Kendra.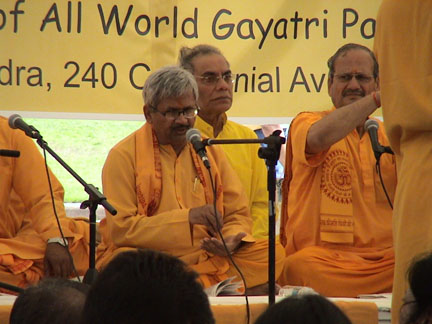 Around 10000 parijans attended this Yagnya and were fortunate to enjoy the divine atmosphere of 108 kundiya yagnyam conducted by the Senior Parijans of Santikunj. PPG's books and Cd's sold in huge.
Pournami Meditation
16—8-2008 1AM to 2AM
A Talk on solar meditation at Shri Katuri Jagannadharao"s home in Nashua, New Hampshire. This is the first Purnami Meditation by
Res.Dr. R.K in USA.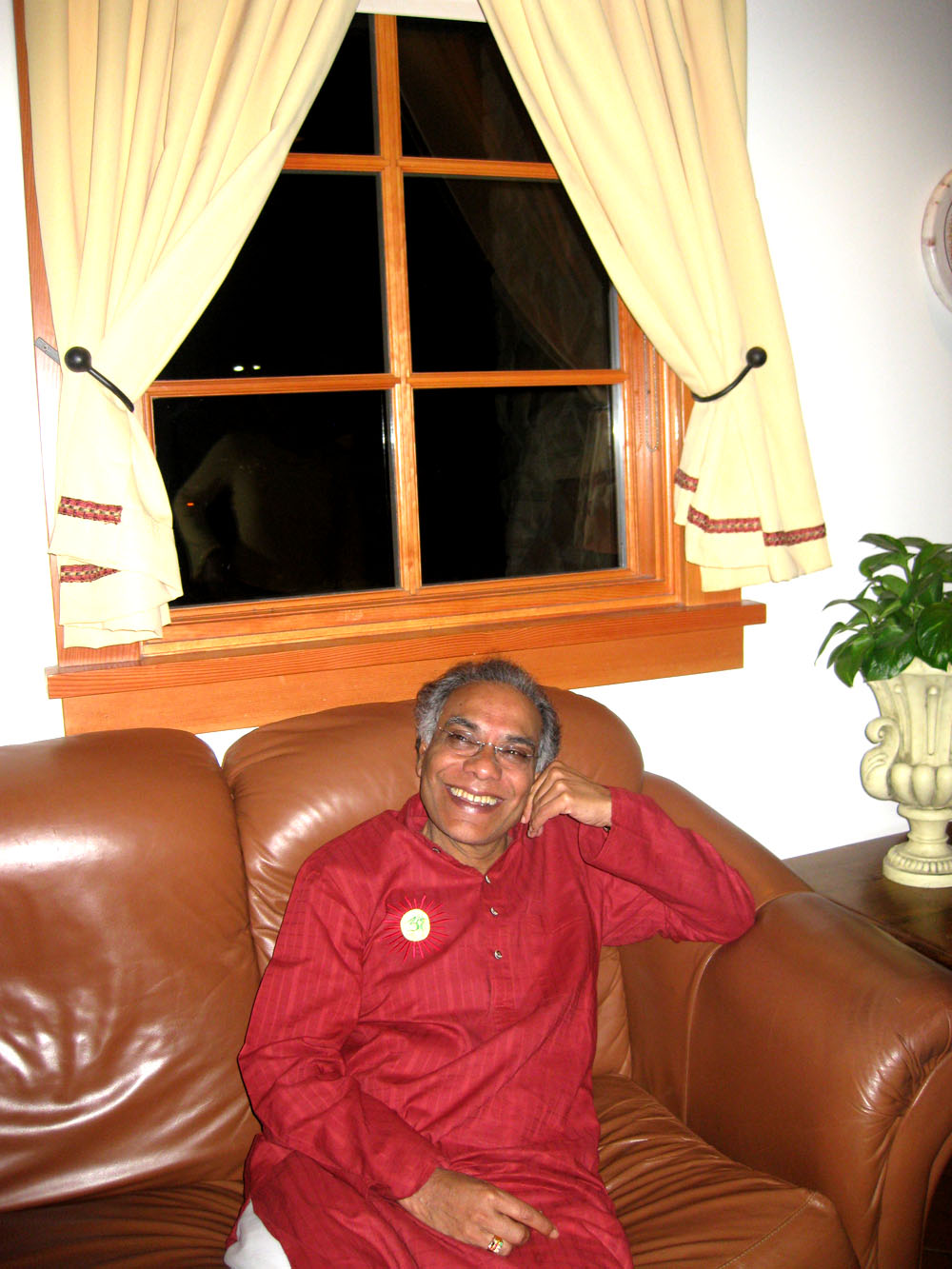 UCONN (University of Connecticut) CT, USA.
Talk on Inner awakening: 19th- Aug- 08 - 7.30 PM
A workshop on "Inner Awakening" at UConn University, CT, U.S.A. organized by Smt.Datta Pandya and group.
Workshop, where participants were taught the mechanics of receiving Pranic energy to help them in active Participation in ones Physical, intuitional and spiritual aspects in their life.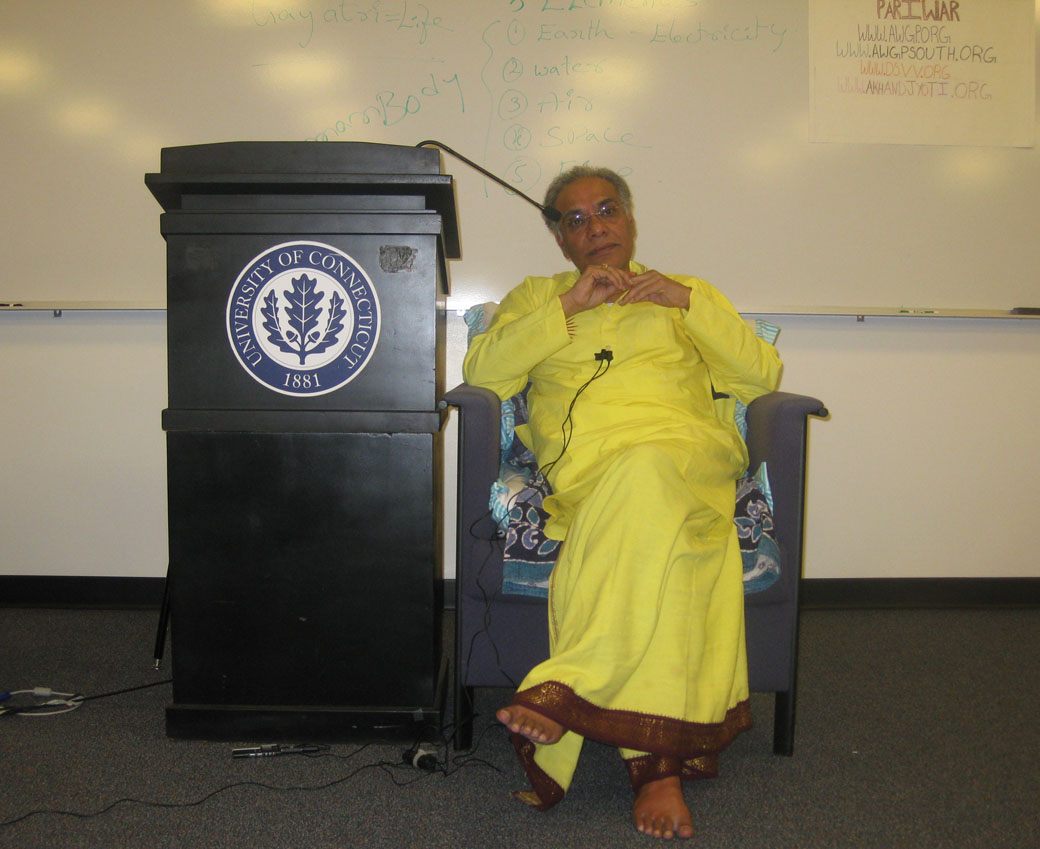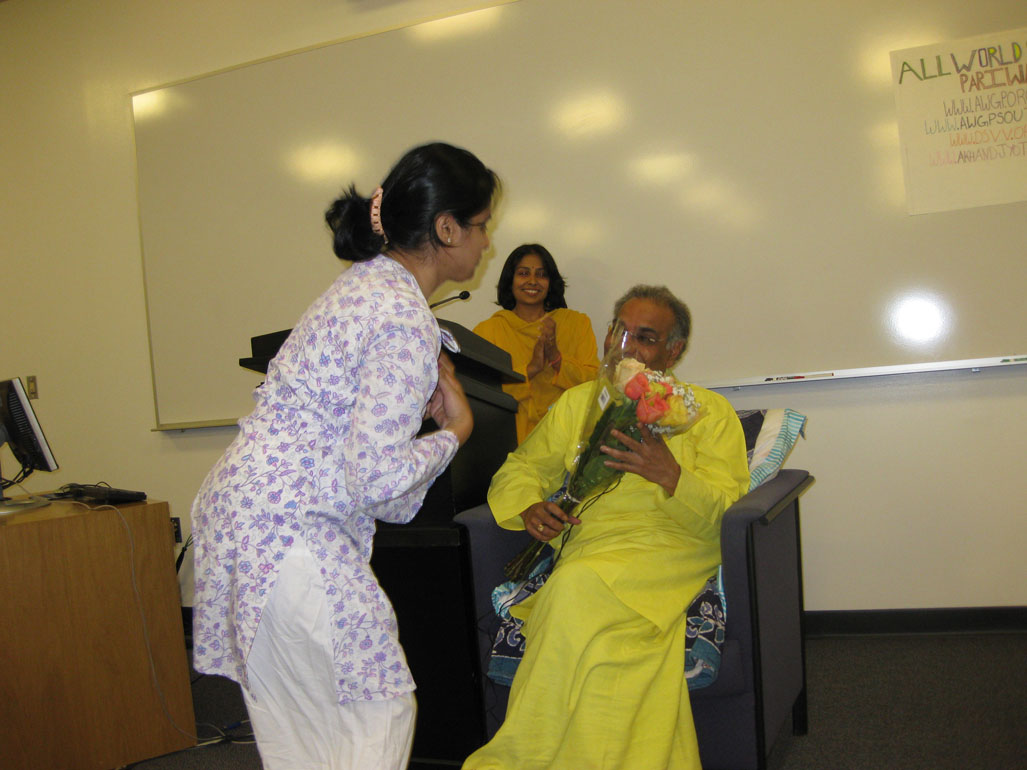 This workshop is organized by Smt. Datta Pandya and local parijans. Also was explained the how of 'Analyze your dreams' (From the book," Sleep and dreams" by PP Gurudev).
On the same day an informal gathering for Karyakartas was also arranged at Smt.Sunita Goels house where Res. Dr. R.K has reiterated the dual message to Karyakartas of spreading the message of Janma satabdi samaroh
(Centenary Celebration of Thought Revolution )of PPG and work to make the KDS literature reach all humanity ).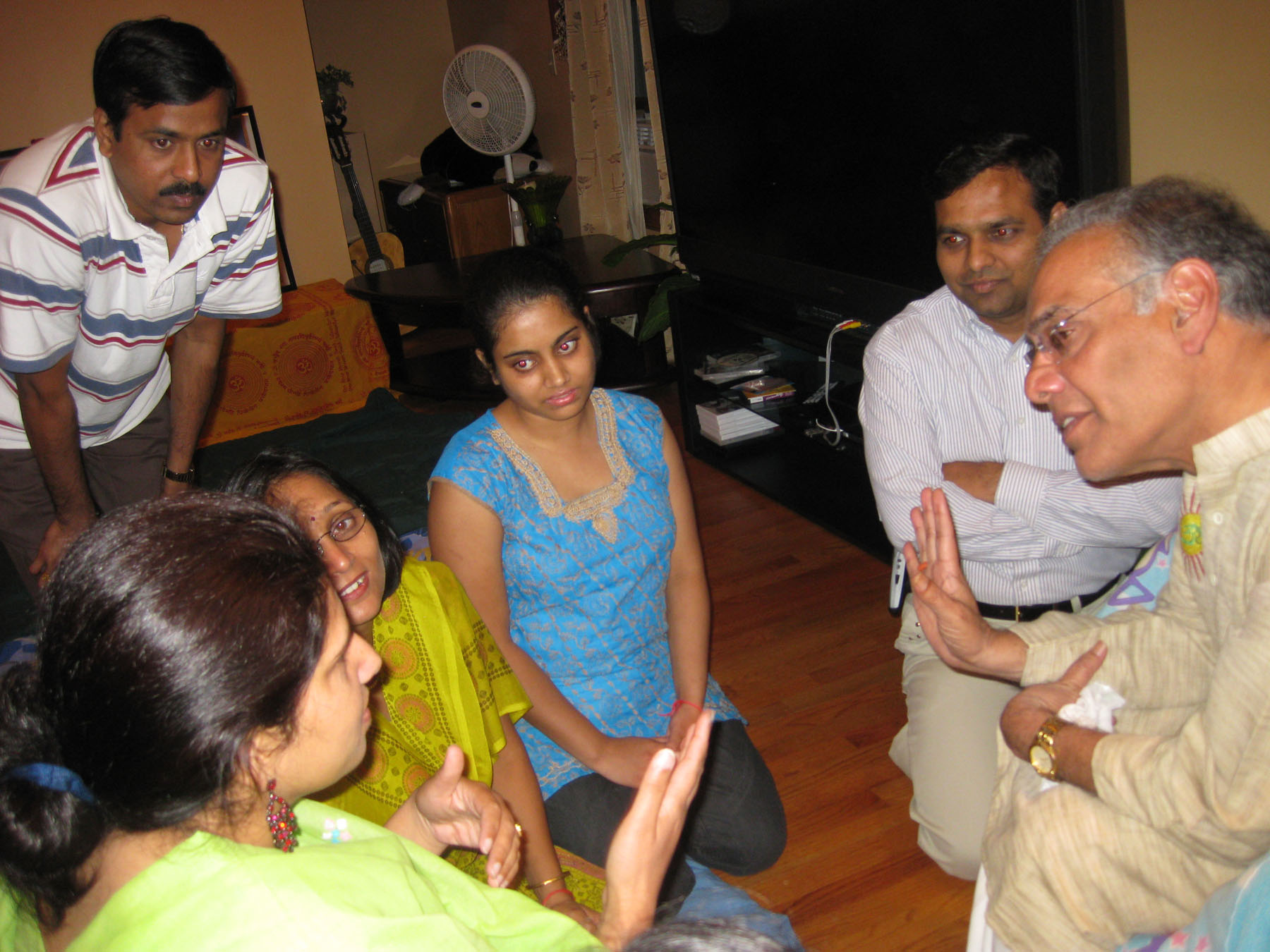 Meeting with Parijans
18th- Aug- 08 - 8.30pm
As SriRamakrishna, PPG in his previous avatar, realized all gods and goddesses in three days apart from understanding Christ and Mohammad. After realizing these and knowing the manifestation of divinity in various forms and religions PPG took another birth and revealed Gayatri mantra as a formula beyond religions and one applicable for entire humanity. Gayatri mantra and Yagna ,as two tools to bring about thought revolution in entire humanity, is the result of 24 years of Gayatri Mantra Sadhana.
For mission : Motivated parijans to look and become serious workers to further the cause and not to seek solace in numbers.
Radio talk show 1330 AM
24th- Aug- 08 - 11.45am – Boston
Live radio show for Pravasi Indians : 11.45 am EST a live radio show of Res. Dr. R.K was arranged by Sanjay Saxena and Sangeeta Saxena from Boston. Harish C. Dang interviewed Dr. R.K on this live show with Key Topics being how Gayatri helps in "Stress Management in Daily life by not avoiding it" & "The Challenges faced by children in modern America" .
Lokvani interview
24th- Aug- 08 - 8.30pm - Boston
An Interview with Lokvani editor(e-Magazine that reaches 35000 people every month ) Prof. Smt Ranjani Saigal was Organized by Sanjay Saxena and Sangeeta Saxena Of Boston.
This e-magazine has a subscription of 35000 many of the readers were very much impressed by this interview and demanded more seminars from all corners from USA varsities.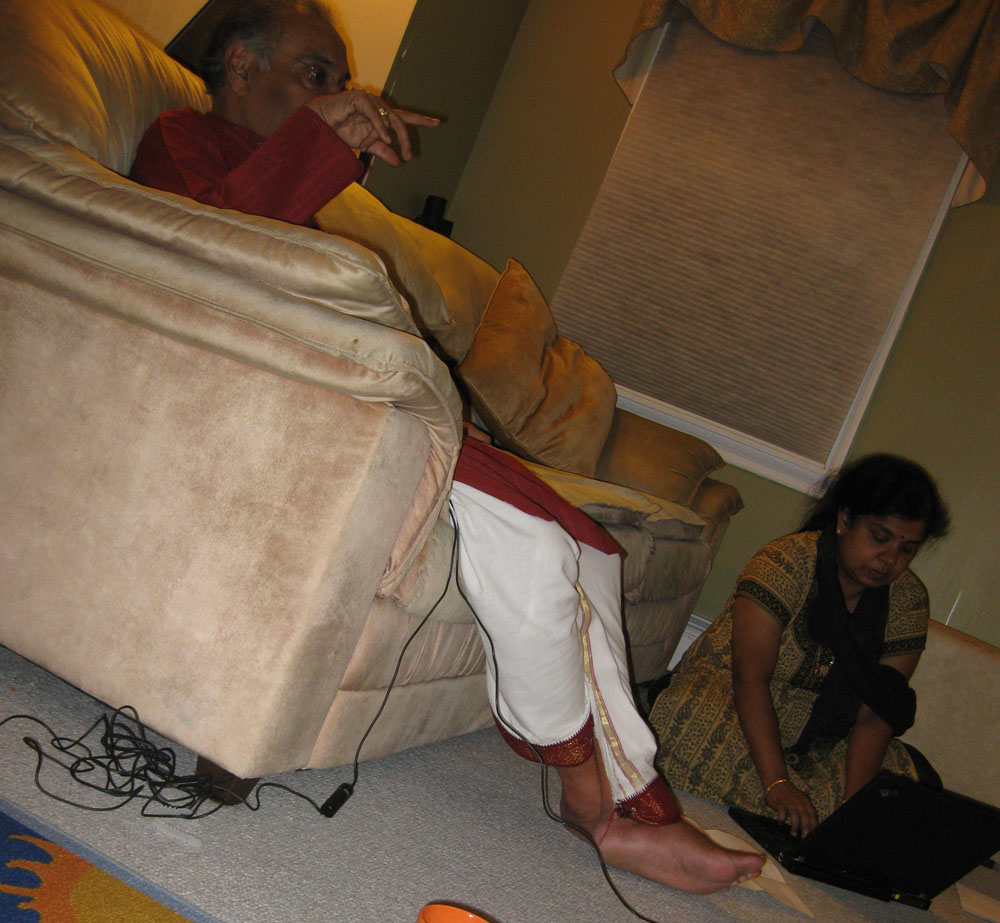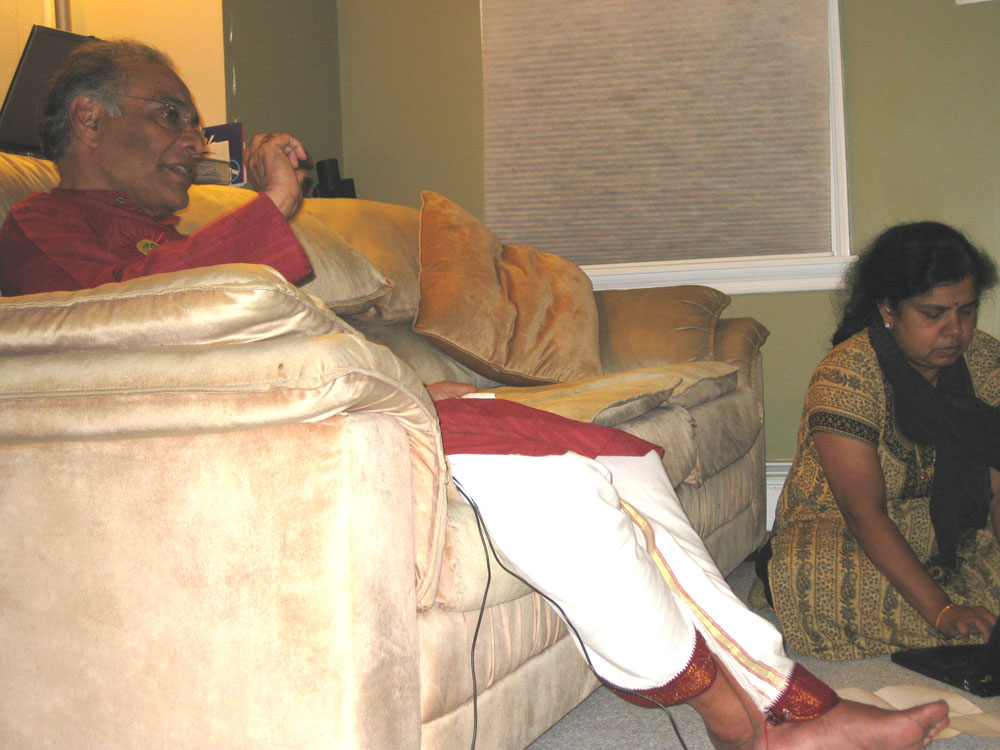 How Gayatri mantra helps us to understand and clear our negative karma of previous and present birth and to accumulate positive karma in present and future lives. Explained how one can achieve THOUGHT REVOLUTION that is envisioned by PPG through reading and using KDS books as tools to this end.
Scientific Spirituality workshops at Long Island ,NY
28th- Aug- 08 - 7.00 PM
Scientific Spirituality at Wang Centre, Stony Brook.
Work shop on scientific spirituality at Stony brook University for Asian Americans. This program was organized by Smt. Sunita Gupta, Ph.D. Senior Research Scientist Cornerstone , Sri.Pravin Kapadia AWGP, and Long Island team. Dr. Sunita Mukhi Director of Asian American programs at Wang Centre, Harsh Bhashin Indian Ambassador were some key participants in the program who went back inspired.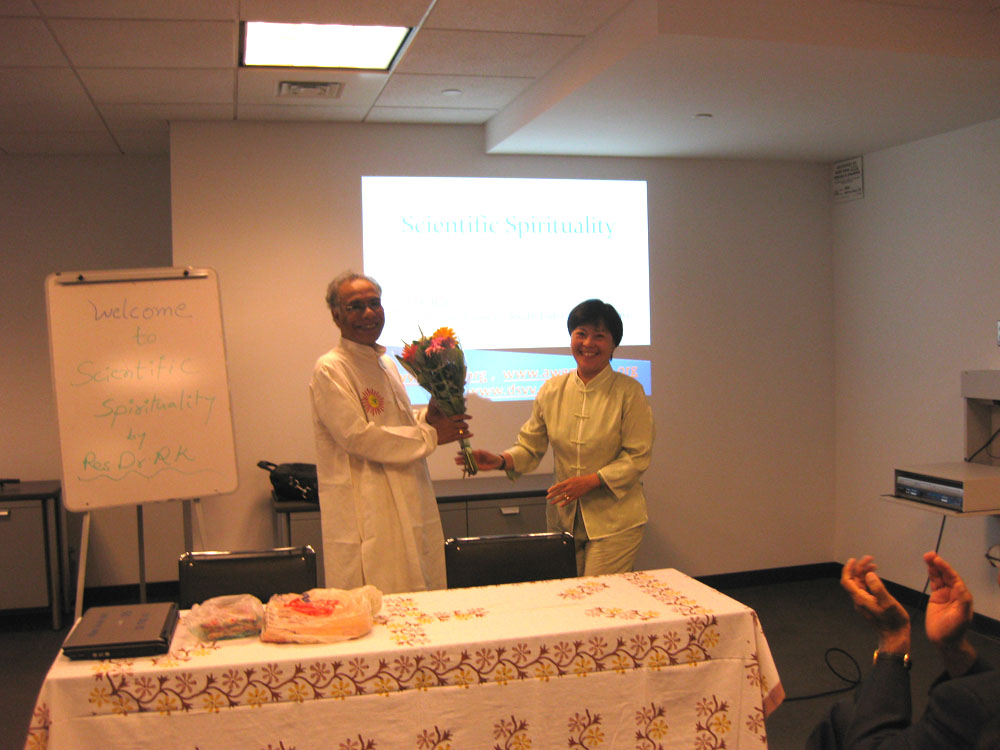 The link between Alpha, beta, Delta & Theta brain waves and Manah, Budhi, CHittah & Ahankara explained. How Gurudev's Panchashil and 4 Varchas principles helps us to reach the awakened mind state of the soul is explained. The scientists who attended the workshop requested many more such workshops for them.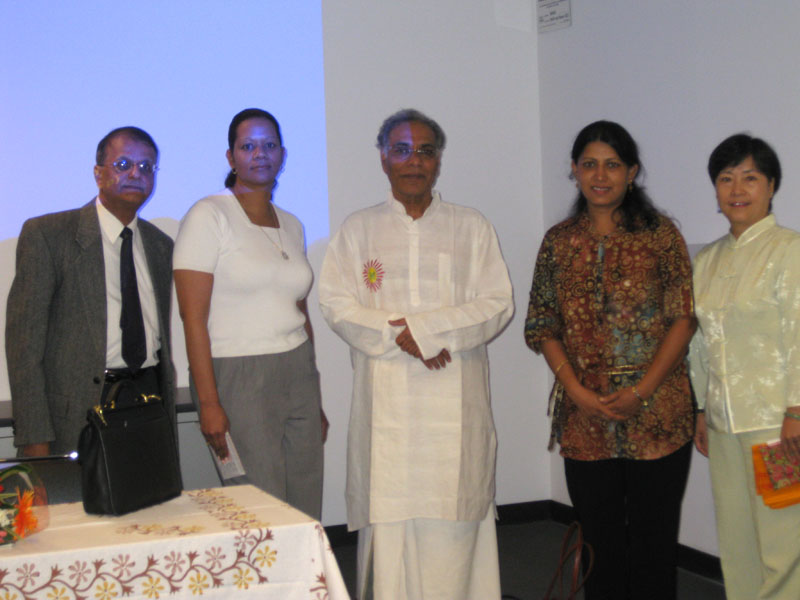 Per their request we are in contact with Cancer research institutes and NASA scientists to arrange workshops or sadhana shibir in the next USA trip by Dr.RK.
29th- Aug- 08 – 11:00 AM
Meditation at Gayatri Satsang center organized by Smt. Sunita Gupta (Satsang center at her residence).
In this lecture Param Pujya Gurudev principle of 'Sitting Idle in one Posture is not Meditation' is explained in a simple way.
Science of Gayatri and its effects on 3 Bodies
29th- Aug- 08 - 7.00 pm
Science of Gayatri and its effects on 3 bodies at Gayatri Gyankendra school, Long Island, NY organized by Sri. Pravin Kapadia & LI team.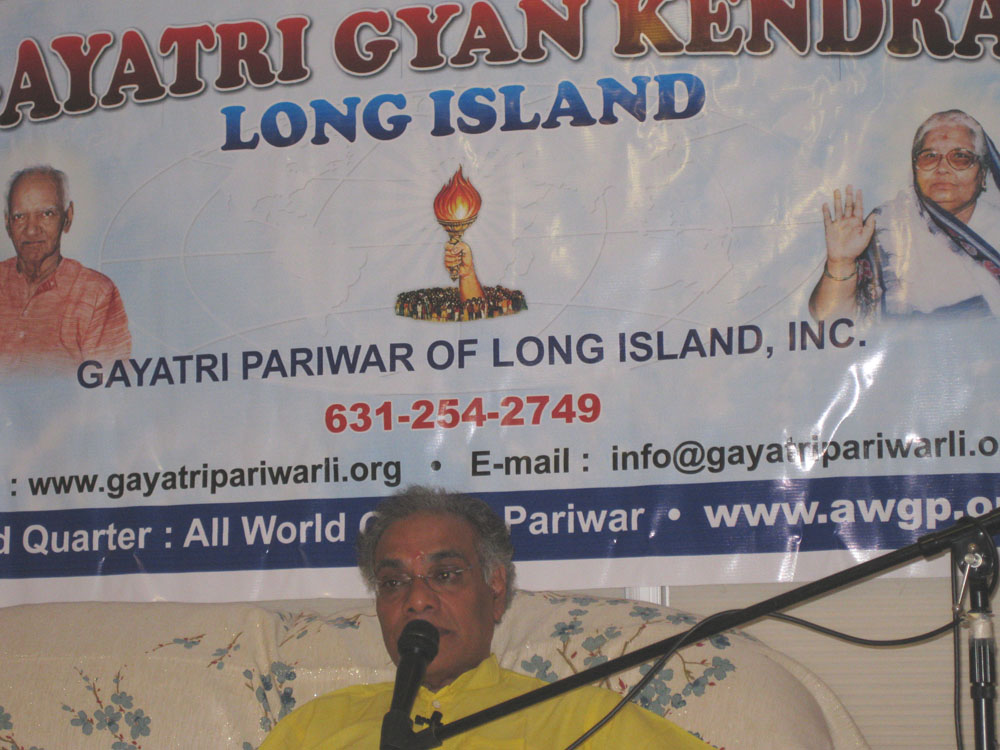 How Param Pujya Gurudev taught us to use Gayatri as: Physical – Parasmani or Parasuvedi, Emotional – Kalpavruksh, & Causal – Kamadhenu.
30th- Aug- 08 - 11.00 AM
Lecture on the occasion of Deep Yajna at Satsang center , organized by Smt. Sunita Gupta .( Satsang center at her house)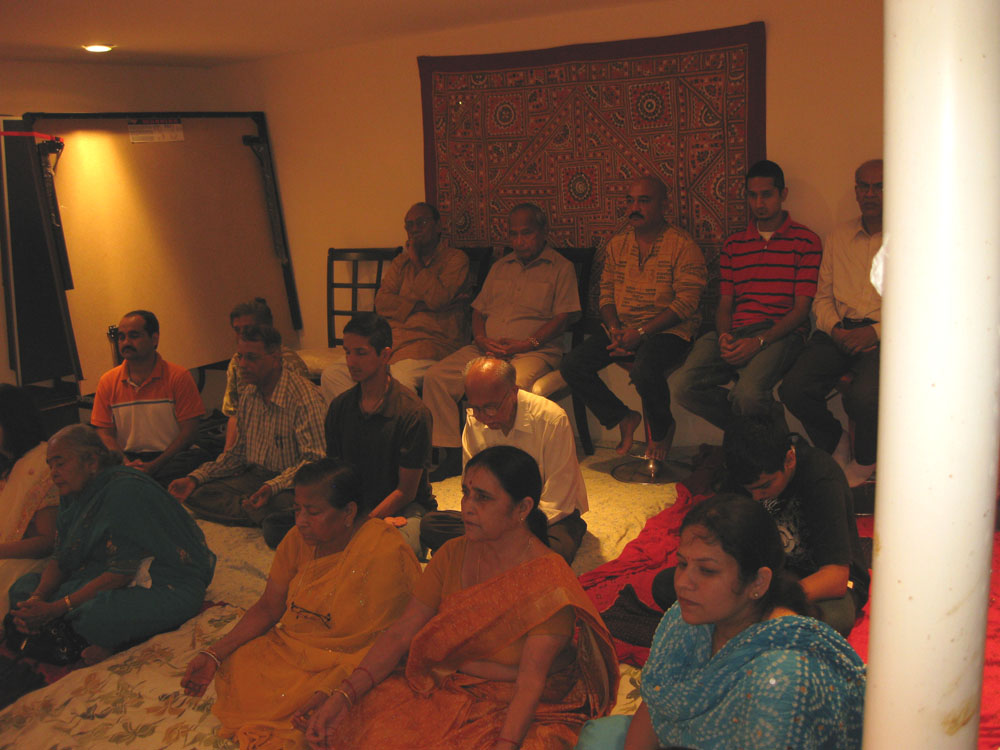 Smt. Tejasri Katuri has conducted this Deepa Yagna. After this yagnya Dr,RK explained how to achieve Asta Sidhis and Navanidhis by chanting Gayatri Mantra based on PPG principles.
Dr.RK. also explained excerpts from his book "Let us Completely Surrender to Pujya Gurudev".
Spirituality and Art of Living
30th- Aug- 08 - 6.30 pm
'Spirituality and art of living' at Gayatri Gyankendra school, Long Island, NY organized by Sri. Pravin Kapadia & LI team.
Param Pujya Gurudev raised himself to the state of Vasista , Viswamitra and then brahma .After reaching these states he removed all limitations on Gayatri and opened the doors to this unlimited power for all living beings.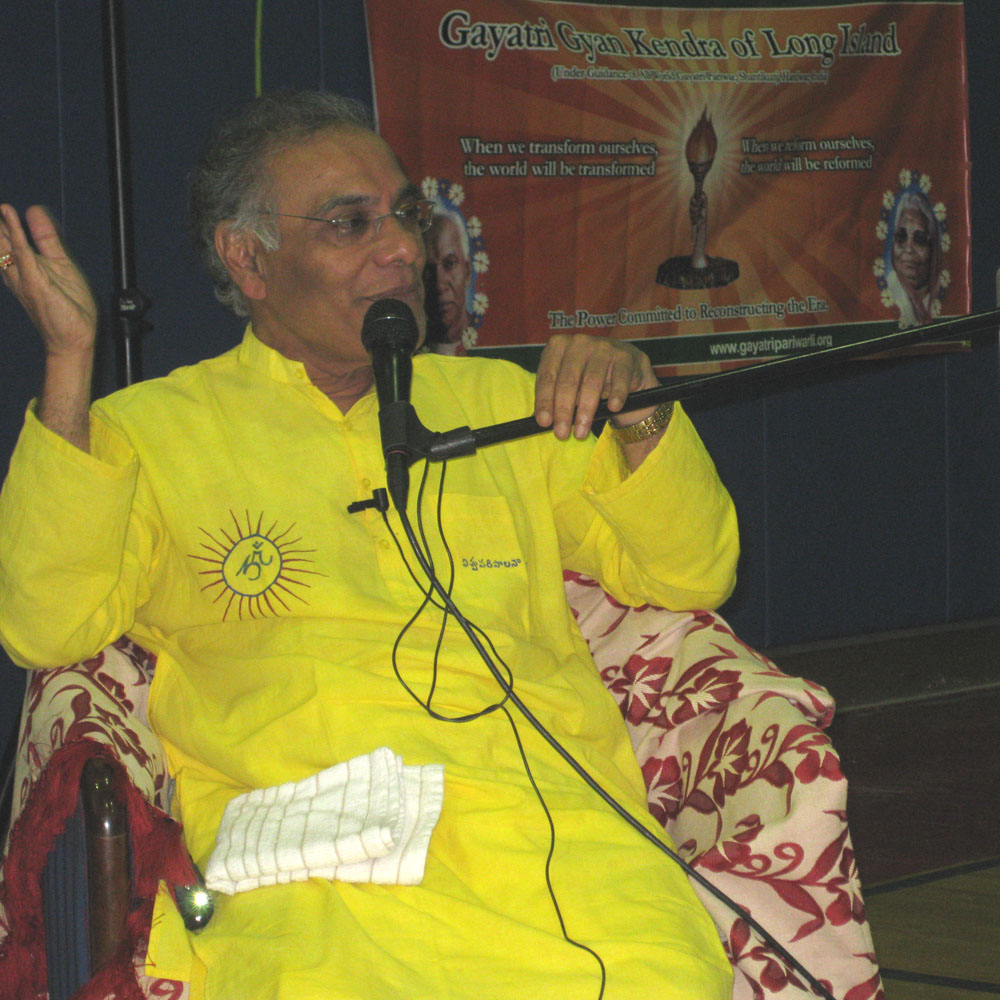 People from other organizations like Scientology requested more lectures covering this area.
Meditation of Gayatri
31st- Aug- 08 - 10.30 AM
Meditation of Gayatri --Gayatri Gyankendra school, Long Island,NY Organized by Sri. Pravin Kapadia & LI team.
Meditation as given by PPG in the second book of KDS is explained by Dr.RK. Formula for this meditation is Om savita Sriram Chandra. The meditation teaches us to receive Solar energy and distribute it to all like moon which absorbs Sun Light and transfers cool light in turn to us.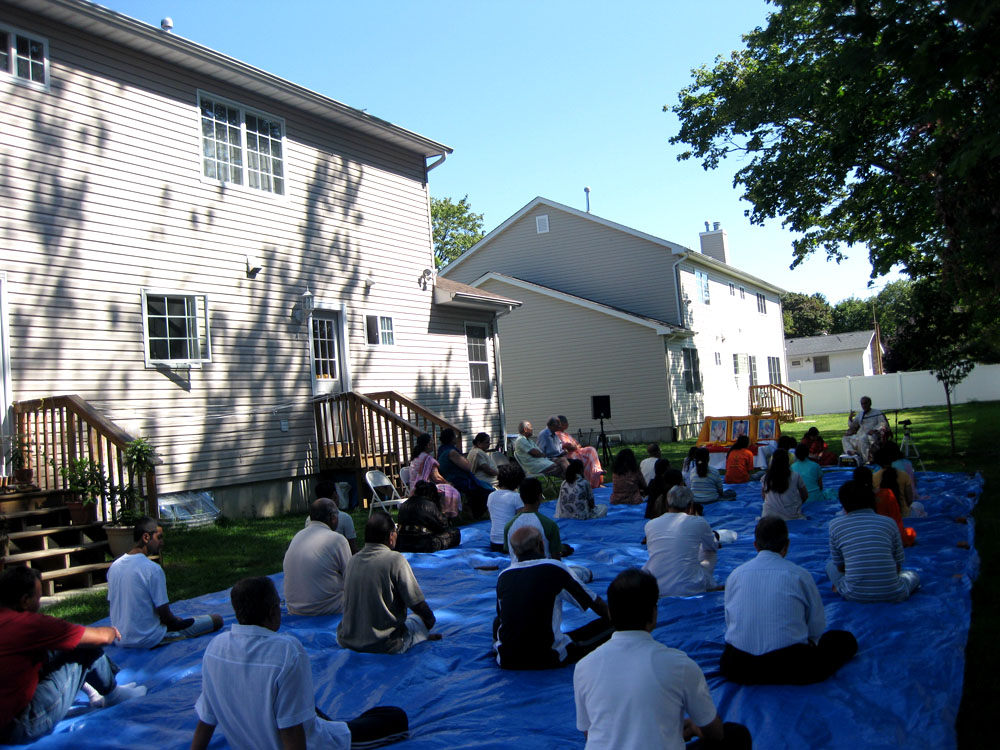 Also asanas and pranayamas are not to be seen as having only for physical health benefits but to channel them to achieve intuitional health and spiritual evolution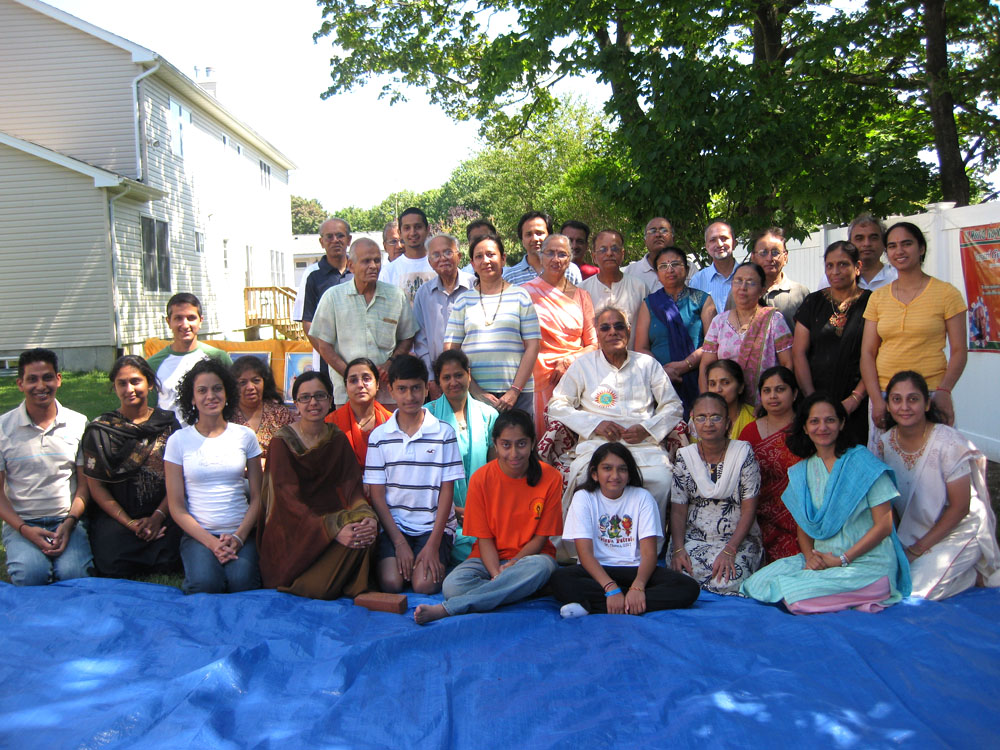 "Vedas - Word Power to create Super Men and Cosmic Men" - Class for Mass bay college Vedic students.
10th- Sep- 12 .00 pm EST.
Dr. R .K conducted this class remotely from India, Hyderabad for Mass bay college Vedic students.
Presentation for Mass Bay college students on "Vedas - Word Power to create Super Men and Cosmic Men" ,Organized by Prof.Mona Khaitan from Mass Bay College and Sri. Sanjay Saxena, AWGP Boston.
Online/ Web Group activities
JULy 27th to Sep2nd 2008 : Through out the tour Res.Dr. R.K has given lectures on PPGs Yuga Nirmana Yojana and conducted conference calls through web apart from guiding / Inspiring many a devotee and re-ignited the zeal of mission and to take this to new people.
Devotees from all 3 US time zones meet virtually at 7 am to chant Gayatrimantra along PPG for 5 minutes. Shri Satya Nemana, Shri Gottipati Ramagopal from East coast, Shri vidya sagar and shri saitej from west coast have been assigned the responsibility of conducting these Gayatri mantra japa daily going ahead.
Shri Tungaturthi Srinivas, Smt suvarna are conducting online swadhyaya On KDS literature every Sunday night 0900 pm EST.
very dedicated team working on these programs, plz join us.
Credits:
Our special thanks to Ad.Dr.Saheb and Sradhey Jiji for providing an opportunity to listen to Dr.R.K's lectures in USA by inviting him here.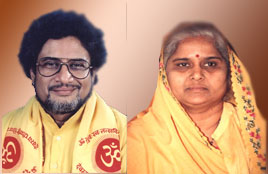 Thanks to CWC for taking care of the necessary Paper Work and to Shantikunj abroad cell for managing Visa logistics.
Our special thanks to Srikar Kummamuri ,USA who escorted Dr. R.K from India and drove him around in US and assisting us with recording of audio, video of his lectures during the entire trip.
Thanks to Rutvik katuri for helping us in video shooting and providing technical support to us.
Sridevi Malasani of Pittsburgh, USA for providing her Samayadaan and her vehicle during his stay and travel
Special thanks to Jagan Katuri who is the Coordinator of all these programs and Dr.R.K's trip.
Last but not least thank to Ad.Dr.R.K for undertaking this arduous trip despite his health problems. He has proved how a disciple can work for his guru in any given place or any physical state of mind or body.
Spcial thanks to Smt.L Rajya Lakshmigaru for her tireless efforts in supporting Ad. Dr.R.K and P P Gurudev's mission.
Yours
Tejasri Katuri - Volunteer AWGP - USA
"Yug Nirman Yojana Safal ho Safal Ho Safal Ho
Yuga Nirman Satsankalp Purn ho Purn Ho Purn ho"