Yoga
The Outline of Yoga Disciplines AUTHOR SHRIRAM SHARMA ACHARYA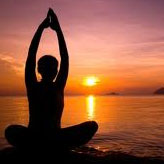 The simplest possible meaning of 'Yoga' is to unite. The technique of uniting the soul ('atman') with God (Parm- atma) is known as 'Yoga' in spiritual language. The activities which are required to be followed for starting 'Yoga' are known as 'sadhna' (spiritual disciplines). 'Sadhna' is merely a means in that direction. It is important in as much as it helps in achieving the goal ('sadhya'). Most people consider means as the end and regard those formalities alone which are used in 'sadhna' as 'Yoga'. In 'Yoga Sadhna' several physical and mental activities and techniques are required to be performed. Their purpose is to create a mental state of uniting self consciousness with cosmic consciousness. Achievement of goal is possible only if this fact is kept in view. If these actions and techniques alone are considered as practice of 'yoga' and no effort is made for the refinement of one's consciousness, this existing illusion, will keep one simply where he was like a galley slave, despite hard practices
performed.In 'Hath yoga', there are formalities like 'asan', pranayam', 'bandh', 'mudra', 'vrat', 'maun', 'neti', 'dhoti', 'vasti', 'nyoli', vajroli', sleeping on the ground, bearing heat and cold. The aim of all of these is merely to gain inner strength and achieve piousness, so that a man who is full of impurities may make his journey towards spiritual progress. Similarly in 'Upaasana', for getting enlightened and initiated, one has to take recourse to the practice of 'jap', 'dhyan', 'nada', meditation, 'swadhyaya', 'satsang' etc., so that consciousness may get inspiration and proper motivation to merge one's own limited self into the limitless 'Brahma'. Purposeless 'Sadhna' is nothing else but a mockery and akin to wandering aimlessly in a forest. Physical and mental practices should be regarded merely the basic leans of 'yogabhyas'. It will be totally fallacious to consider them miraculous and to think that merely by becoming expert in these practices, the object will be achieved.
A man uses paper and pen to convey his thoughts. This is definitely an important equipment and, but for it, communication of thoughts will be difficult. Still, the object of correspondence cannot be fulfilled merely by pen and paper. If one rubs pen and draws some zig-zag, absurd lines here and there, the purpose of communication by correspondence will not be served. Expression of thoughts in verbal form is extremely essential in the process of writing. Thus. one should not be satisfied by regarding formalities of physical and mental exercises as 'yogabhyas'. There should be keen effort to elevate emotional consciousness so as to link soul with God. The importance is of emotional awareness and excellence. Then alone will the vehicle move ahead and purpose be solved. 'Yoga' has been labeled as control over thoughts. 'chitta-vritti-nirodha'. The mental attitude of an ordinary man is that fulfillment of love, sensuousness, greed, attachment, pride and similar other cravings are pleasure some and thus he remains engrossed in them. The water has a tendency to flow downwards. For the uplifting of soul, efforts similar to those required in lifting water from a well to an over-head tank, are needed. If the mind is let loose, it will automatically enter into the state of accumulation of habitual beastliness of several past lives. Water flows downwards no sooner it falls from the pot. The same is the nature of one's mind ('chitta'). The industriousness and enterprise performed for uplifting of thoughts is known as 'chitta-vritti-nirodha'. Maharshi Patanjali has described this valor as 'Yoga'. Several persons do not understand the format and objectives of 'chitta-vritti nirodha' and consider restraint over mind ('chitta') as yoga. They think that the concentration of mind is the success of 'yogabhyas' and lack of concentration is its failure. This is a misconception. Concentration too has its own importance and utility, but to consider concentration as the sole basis of worship and yoga sadhna is erroneous. There are various phases and stages of concentration. Concentration is used in mesmerism and hypnotism too. It is also practiced as worshiping before the deity by 'arti', prayers, etc. Later on, slowly and gradually it reaches the stage where it is called trance, contemplation, thoughtlessness, 'bhava-samadhi' etc. This is the last stage of sadhna and to achieve it, is a tiresome, time taking job. One cannot achieve it on the very first day of starting practice. Concentration of mind in worship depends on one's habit of doing each and every task with single mindedness.
For this the habit of performing any work with alertness and joyful state of mind has got to be developed and the system of doing routine work to be utterly changed. Persons who are in the habit of treating every work with indifference and negligence will be disappointed if they desire to concentrate their mind, so as to enter in the field of spirituality. The stage of concentration over thoughts takes its own time. It requires patience and practice for a pretty long time. One should not bother even if that stage is not reached. What is needed for spiritual progress is to change the direction, the tendency of mind. This will be a sufficient compliance in the direction of yoga of 'chitta-vritti- nirodha'. The aspiration for 'shreya' (highest coveted divine achievement) should replace 'preya' (desire for worldly pleasure). The bestial tendency of indulging solely in fulfilling the worldly desires and procreation for their sake should be changed to divine attitude of elevating the soul from 'atman' to 'Paramatma'. With this modification of desires there will be a comprehensive rejuvenation of thinking and physical actions.
The Outline of Yoga Disciplines AUTHOR SHRIRAM SHARMA ACHARYA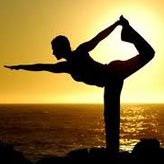 The increase in faith in the futility of 'preya' and utility of 'shreya' will have direct impact on the process of thinking. This is the only road which leads soul to omnipotent God. There appears extraordinary change in the mental attitude of a person if he moves ahead towards the goal of achieving 'shreya'. Meanness gets converted into excellence and this elevation of thinking is called 'chitta-vritti-nirodha'. When the disgraceful bestial tendencies, by upliftment, take the form of divinity in behavior, it is labeled as a ' higher stage of Yoga. In Geeta, while describing the routine of yogi it has been said - when people rest, the yogi keeps awake. The secret philosophy hidden behind this fact is that the general trend in the masses is mainly in regard to bestial tendencies. 'Chitta-vritti-nirodha' is the process of reversing this trend by the force of spiritual power. Concentration over thoughts takes its own time and is practiced gradually.
It is, therefore, not at all necessary to make haste and be impatient in this process. The ultimate goal of life should always be kept in sight. The flow should be only in one and the uphill direction. The real objectives of concentration thereby can very well be fulfilled. In fact, what we call concentration is nothing but to control the desperate bid and running about of boundless bizarre mind. The mind has a tendency to run about very often and so it should be brought within the meditation limits again and again. This practice should continue till the goal is reached. Contemplation is the stage of 'samadhi' which is achieved by perfection in thought control process so as to merge with cosmic mind or macro cosmos. This fact should be understood a thousand times that complete concentration over thoughts can never be achieved at the initial stage. None should have a craving for it, nor be depressed about it. It is just enough to go on trying and trying. It becomes clear by minutely studying the biographies and mental status of Meera, Soor, Chaitanya, Ramkrishna Paramhansa and other sages that they could achieve contemplation by emotional uplift and their utter devotion to humanity and excellence as cosmic consciousness. In the process of upaasna, shedding of tears and unusual emotional out-bursts are very often seen. In such a mental state concentration is not possible. If concentration only had been the fore-most consideration, the emotional out bursting, in which the devotees seemto remain engrossed, would have become a great obstacle in achieving the goal. But the examples of saints of 'bhakti marg' propagate that this has not been so. The importance of concentration is not being under- rated here. It is neither abandon able nor negligible. Nobody should have doubts about the utility of meditation process. Yet the misunderstanding, that worship is successful if there is concentration of mind and it is unsuccessful if there is no concentration, should be cleared. Instead, the thinking should be, that not 'chitta-nirodha' but 'chitta vritti nirodha' is essential. What is needed is not sole concentration of mind but giving it a proper direction. If this could be made possible, it should be understood that proper background of 'Yoga-sadhna' has been formulated and further outlines have been made clear.
It is impossible for the shallow intellect of man to understand the omnipotent power of God. The universe is vast and wide-spread beyond human imagination. The working system of creator on this universe is certainly unique. There is vast difference between the appearance, nature, thinking and the system of living of different living beings on this very earth. Then, what can be said about the system of living of the creatures living on other planets? The entire universe cannot be understood nor is it necessary to do so. So much part of 'Brahmi-chetna' which is related to human consciousness is known as God or the wholesome cosmos. He plays an important role in our bliss and advancement. Therefore, for the purpose of 'sadhna' it has been considered necessary to establish contact between micro-cosmos and macro-cosmos. This God should be our target for worship. 'Parbrahma' is one. By having belief in God and Goddesses in different forms, one should not fall in illusion that they are different and independent of each other. Almighty is store of countless powers. We get an opportunity of grasping in abundance that power of His, which appears to be attractive and suits our liking by regarding it as His main power. In the sun-light there are ultra-violet,infrared and cosmic rays which have spatial attributes. With the he1p of scientific equipment, the requisite necessary rays can be sorted out and collected from the mass of showering sun-rays and utilized. The sun 'Savita Devta', can be regarded as 'Brahma' and its rays as countless Gods. Worship thus can be centralized on one's own cherished aim. If necessary, particular God or Goddesses can be worshipped by various spiritual practices for acquiring special subtle powers, but it is advised that the 'sadhna' of 'Brahma' as a whole is best amongst all. Only that food is regarded as ideal and balanced in which all the elements of nourishment are present. Howsoever, useful protein may be, it will not be useful to consume it all alone. The worship of a particular God is like consuming protein or calcium alone. Just as in medical treatment, a particular element, if necessary is taken in particular quantity, similarly for particular purposes the worship of particular deity can be useful. It should be borne in mind here that the sole object of yoga is to unite the soul with God. For this, change in the trend of thinking is essential. After all, the role of merging the soul in God has to be accomplished by the mind. With whose support will it be possible to march on the way towards the goal if the thoughts were to get entangled in will it be possible to march on the way towards goal, if the thoughts were to get entangled in the wrong direction? If the scattering and confusion of mind can be changed into orderliness, it should be understood that the purpose for which several devotional rituals are necessitated, is being fulfilled.