PRESENT MENTOR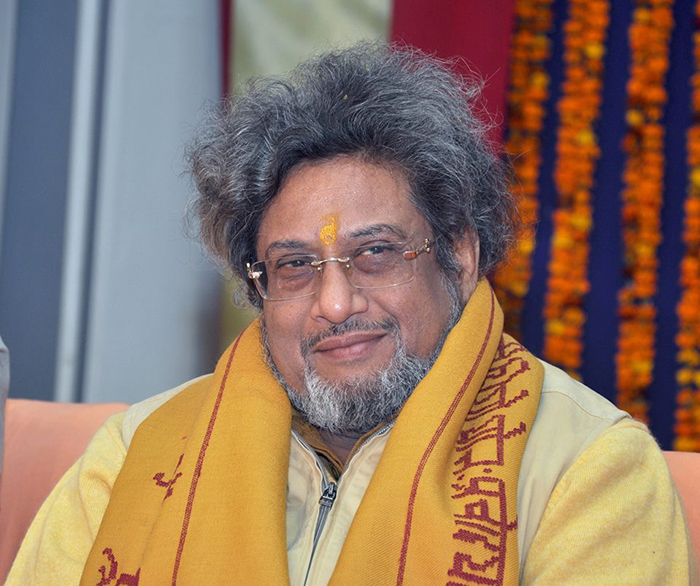 A Brief Bio-Sketch
A Gold Medalist in (MD, Medicine), Dr. Pranav Dr. Pranav Pandya Pandya, qualified for US medical services in 1975. But, inspired by his Guru seer-sage Pandit Shriram Sharma Acharya, he gave up the lucrative offer and stayed in India for altruistic cause. This was the beginning of a Gurudisciple relationship that asked for more sacrifice and penance before molding him into a global messenger of Indian Culture.
He gave up his job with BHEL as the in-charge of ICU (Cardiology) and joined the Yug Nirman Mission at Shantikunj as the Director-Brahmavarchas Research Institute in 1978. Under the noble guidance of Acharyaji, he laid the foundation of pioneering work in bringing science and spirituality together.
He initiated path-breaking research studies on Ayurveda, Psychology, Yagyopathy and therapeutic benefits of Meditation and Pranayam was carried out. He carried out deep study and research in Indian Scriptures and coauthored many books on scientific spirituality during the years 1978 to 1990 in close proximity of Acharyaji.
More significant phase of his life began in 1990 when Gurudev Pandit Shriram Sharma Acharyji took Mahasamadhi. This time the world was waiting for his treatise on Scientific Spirituality in the light of Indian Culture. As the global head, he established branches of the Gayatri Pariwar in 80 countries. In continuance of his efforts he has presented scientific aspect of Indian Culture to the Parliament of Worlds Religion in 1993. He has addressed joint session of House of Lords and House of Commons in UK in February 1992.
As a global messenger of Gurudev Shriram Sharmaji's vision of Bright Future Dr. Pandya inspired Youths and Talents all over India and abroad to take up the three-fold path of Sadhana (self-discipline), Upasana (adoration & adoption of divine values) and Aradhana, (self-less service). Under his dynamic leadership, the Gayatri Pariwar fraternity has blossomed into a world-wide organization with nearly 90 million followers.
As a futurist he is not only optimistic about a bright future for mankind, but also has the courage of conviction to go any length to achieve his goals. His untiring efforts manifested into a unique University of Indian Culture. Established in the year 2002 through an ordinance by Uttaranachal Government and recognized by UGC, this University, the Dev Sanskriti Vishwavidyala, is being developed on the lines of ancient Gurukuls of Nalanda and Taxila.
Dr. Pranav Pandya is a shining example of a Holistic Purposeful selfless life lived in the true Vedic spirit.
Conferences, Workshops & Seminars
Between 1990 and 2005, undertook extensive tours in India and abroad and organized large-scale programmes to disseminate knowledge about spiritual aspects of Indian Culture on a scientific basis. Established branches of the Gayatri Pariwar abroad in USA, Canada, UK, Denmark, Norway, Australia, Fiji, New Zealand, South Africa, Kenya, etc.
Participated in conferences and delivered exclusive lectures at Cambridge University, Oxford University, Harvard University, University of California at Los Angeles and other Universities.
Addressed a joint session of the House of Lords and the House of Commons in London in February 1992.
In 1994, initiated Watershed Development Scheme, a scheme for harvesting rainwater. This scheme has been extended all over India.
Presented scientific aspects of Indian Culture to the World Parliament of Religions held in Chicago (USA) in 1993 and in Cape Town ( Republic of South Africa ) in 1999.
Accolades & Honours
Honoured by National Aeronautics and Space Administration (NASA), the world famous American space centre, in 1996 as a distinguished scientist and reformer for worldwide dissemination of scientific aspects of Indian Culture.
Conferred the "Gyan Bharati" award in 1998 by "Prabhu Premi Sangh" Ambala, for distinguished services to society.
Conferred the "Hindu of the Year" 1999 award by F.I.A. (Federation of Indian Association) and F.H.A. (Federation of Hindu Association) for dissemination of Indian Culture abroad.
Honoured with "Bhai Shri Hanuman Prasad Rastraseva Samman by Barabazaar Library Organisation of Kolkata in 2001, which carried a cash award of rupees one lakh alongwith a citation plaque. The whole amount of the award was donated to the Gujarat Earthquake Relief Fund.
He has been honoured with Life Time Achievement Award at the National Symposium on Science of Holistic Living by SEVAGRAM, Wardha .
Conferred the Devi Ahilyabai Rastriya Puraskar award in 2011 by Ahilya Utsav Samiti Indore, for distinguished services to the society.